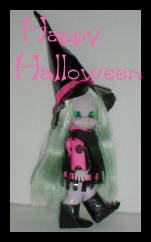 a 1972 Girls World doll.
she is about 6 1/2 inches tall,a rare a increasingly popular collectable doll.
She'll bewitch you for sure with her pale lavendar skin mint green hair and sparkeling eyes,her eyes originally would flash but most dolls eyes dont flash anymore.



This is an Emerald witch doll from 1972. The person I'm selling this for is a packaging designer and did some work for "Girls World," a division of Milton Bradley back in the early 70's. According to him, the Emerald line didn't sell well, and Milton Bradley wanted to get out of this sort of toy and stick to board games. He watched as the company destroyed a ton of these dolls, as well as the original molds. So he asked if he could have some and they gave him a bunch that, over the years, he had been giving to needy children and other charities. Emerald is in perfect mint condition, and before this week has not seen the light of day since it was made back in 1972. It has been safely packed away since it's creation, sealed in the shipping box from the manufacturer, as has these four extra outfit, "Bewitched," "Midnight Ride," "Gypsy Spell" and "Nightgown." The doll is wrapped in two plastic bags, one small one over her head (to protect her hair, I suspect) and another one over her body. The extra outfits are sealed in plastic (again, sorry about the bad photography). They are not in boxes or any other packaging. I assume this is the way they are packed prior to when they are placed in the final packaging.